Basically, I can't even think about, let alone look at, photographs of women from the late 1800's to early 1900's wearing Victorian and Edwardian clothing without my head falling off. We're talkin' serious panic attack. You have no idea how much I love it. I go to estate sales a lot, and I really think I would just roll over and die right then and there if I ever actually found a genuine old photograph from that era. I adorrrrre the high necklines, dramatic sleeves and shoulders, embellished hats, dainty umbrellas, gobs of lace trim... the list could go on and on...
I would love to re-create a dress exactly like this one, only make it above the knee instead of long. And I would give it a little more room in the waist because breathing is kind of necessary. And the woman wearing it is so beautiful: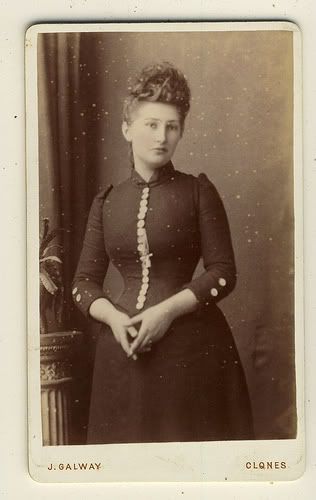 I wish soooooo much that I knew the history behind these photos.
This is a Japanamation of a
bob haircut girl
in a Victorian maid outfit. I just couldn't resist posting it:
I really like this Nanette Lepore Victorian style blouse. I especially love the long lacey sleeve cuffs. I would probably wear this with a high waisted, poofy skirt. Oh, and I would also tie those things around the neck into a bow:
Don't be mad if I start dressing like this a lot this fall and winter. I wanted to put together an outfit of some things I would actually wear (a more realistic and updated version of the photos above), so I created a set on polyvore.com. I especially love the cream dress and the beaded coin purse. I can't decide if I'd rather wear the cream bow in my hair, or the cameo pin... it would have to be either / or, because I think both at the same time would be too much:
Ahhhh... I wish I could go back in time...